Brandy Vaughan, Big Pharma whistleblower and outspoken critic of vaccines was found dead by her ten-year-old son in 2020.
Brandy Vaughan was a former high-level executive at Merck, one of the most powerful pharmaceutical groups on the planet.
She had decided to leave her profession at the drug company Merck & Co amidst Merck & Co's famous Vioxx scandal.
After her three years in the business which ended in 2003, Ms. Vaughan spent the better half of a year in Europe, gave birth in Amsterdam, then came home to California before pursuing travel around the globe successfully speaking out against the shadiness that is Big Pharma.
Ms. Vaughan famously spoke out against Senate Bill 277 in Sacramento
Bill 277 removed personal belief as a reason for exemption from the vaccination requirements.
This is the first generation of kids that is sicker than their parents… and experts say they will not outlive them. What is going on? Ms. Vaughan will tell you in her video below.
Medical science has made 'such tremendous progress' that there is hardly a healthy human left on earth. How is this happening? This brave woman warned the world.
Here is a screenshot from Ms. Vaughan's Facebook page that rule out suicide as a cause of her death: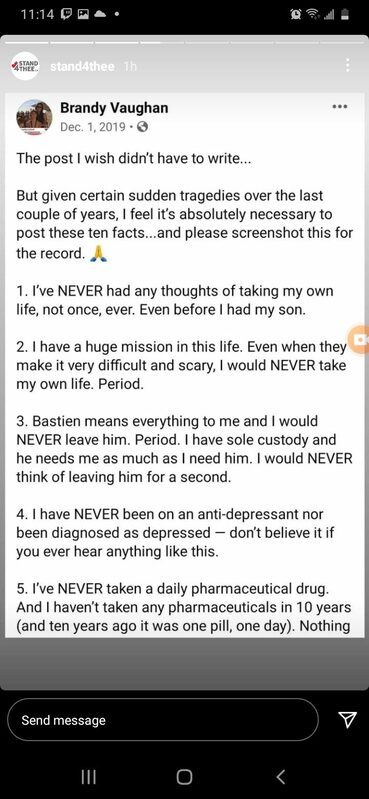 Ex-Merck rep Brandy Vaughan exposes the dark side of pHARMa (Transcription)
Or watch the video here.
Transcription highlights:
Thank you for joining me today and thank you for listening. I want to thank Brian for allowing me to speak about a topic that is probably one of the most pressing healthcare issues we face today.
Pharma, vaccines, and you
I'm here to tell you today how everything that's coming through with the agendas of vaccines, and how it's going to affect you, and how we are going stop this.
A lot of you have heard about the mandates
I'm among a lot of people who are probably called 'crazy' as much as I am. Every single person in this room is here for a reason. We are the ones who have that mission, all of us. We are the army that this world needs, so that we see better health, and our children have a better world. In fact, this is why I'm here today. I'm crazy for this one; this is my son.
A lot of people say:
"Brandy, so you worked in Pharma. They don't really like it when ex-employees speak out. Why do you do this?"
You know what? They don't, they don't play nice, but I do this for him. Because he is my world, and I want a better world for him. A world with better health, a world where we have the right to decide what goes into our bodies. Because what more fundamental right do we have than to our health?
SP 277: This is only the beginning
It's the law in California now that says: my son, who is 5 years of age and completely vaccine free, and perfectly healthy, cannot go to school, public or private, in the state. But this is only the beginning. I cried for 2 weeks when I heard about SP 277, because I had this feeling, this innate feeling that something was coming, that I had a big mission in this life. My mom used to say, "The only reason she was born was to give birth to me, because I was going to 'change' the world'". She died when she was 40. I was her only child. I thought,
'O my God, I am meant to speak out against a company that is larger than most small countries!'
That is holy smokes; that's not exactly what I planned in this lifetime! This is only the beginning: SP 277.
USA today wants all parents that don't vaccinate to be in jail!
TIME magazine wants all of their addresses released publicly, like a sexual predators' database. And you know what I learned in Pharma? They always drop hints. If you think this isn't going to come, well, I think you might have some regrets in 10 years. Those who have the privilege to know, have a duty to act.
People always ask me, why? Why would you take on Pharma?
Are you crazy? Well yeah, I'm crazy, crazy enough to think I can, you know, grow an army to do it. I know that I was put here to do this, and I have the knowledge. And somebody has got to act. We cannot rely on everybody else to do it for us. We have to take back our health, and we have to stand up to the system. Each and every one of us in this room.
I worked for Merck; I sold Vioxx
Does anyone remember Vioxx? Oh, yeah, it killed people. It killed people and Merck knew it! So another reason I'm here today is because I sold the drugs that kill people. And that haunts me. So when I came back with my vaccine-free son from Europe, I saw this whole push for vaccines. And when SP 277 came out of the pocket, I said, "Holy smokes, this is where they're going next!" I cannot not speak out about this. My experience selling Vioxx, which I won sales awards for: 4 times increase in heart attack and risk and death. Merck knew this! They stopped the study that we were already talking about with doctors. And then all of a sudden, your materials are confiscated, and you can't talk about it anymore. And if you have questions, well, you don't get answers.
It was the largest drug recall ever
$ 6 billion was paid out in fines! But you know what? It was still a blockbuster drug! They still made 10 billion out of it! All of those lawsuits, all of the people that had died: just the cost of doing business. Profit over people, that's what they care about. We cannot rely on that system.
The FDA officially said, 50,000 died; others say, 500,000 people died of Vioxx in the 5 years it was on the market
It never should have been on the market. I left before it was even pulled from market. The shadiness that was going down was too much for me.
How do they do it?
The indoctrination starts early; you guys know this. 200 Harvard med students said, "Get Pharma out of our education, get them out of our professors' offices, get them out of our curriculum". Pharma has ghostwriters! I have a friend in New York City who does it, who writes curriculum for medical schools. They write the textbooks! And you know what Harvard did? Absolutely nothing. Absolutely nothing.
What about research?
Everybody says, "Oh Brandy, but there are studies backing up vaccines!"
Who funds on, who funds on? Pharma funds 75 percent of pharmaceutical drug studies. They fund pretty much all of the vaccine studies, either through the NIH, through a foundation, through the CDC. They are biased! Dr. Richard Horton even says:
"Today, perhaps half of scientific literature is simply untrue!"
Why? Because of conflicts of interest, small study samples biased. Did you know that Pharma can stop a study that gets negative results, and not even tell the FDA? They did it with Vioxx, because it's legal.
What about the FDA?
They are here to protect us, right? They are the regulatory agency. They protect us from dangerous chemicals in the food, in water, in drugs, right? Do you know who was just nominated, or actually put to head of the FDA? Dr. Califf. Has anyone heard about this? This right here is a scandal! Even The New York Times said that his drug ties are scaring people. He is the ultimate pharmaceutical industry insider. He had a conflict of interest section, declaring financial support from 20 biotech and pharmaceutical companies, and he is heading the regulatory agency! His famous quote: 'Regulation disrupts innovation!' Does that scare anyone? Because that scares me. That scares me big time. We have to push back.
The CDC Centers for Disease Control is just as bad
Julie Gerberding ran the CDC for 7 or 8 years. She doubled the vaccine schedule! The childhood vaccine schedule was doubled in her tenure. Guess what? She got a really good reward. She went to had Merck's global vaccine division, worth $5 billion. Two months into it, she cashed in 3 million in stock options!
Pharmaceutical industry, you guys know this
They create customers: cradle to grave customers. But as adults, you know, we are already in a ton of meds. Where is the real money? It's in the kids! And it is in vaccines. Because they have created so many diseases and disorders, they're running out, they are running out of ways to make us more sick! But they can create vaccines for all of those diseases they have already created. We are now the most drugged up country in the world. But the prescription drug market is saturated. It's full. It's overly competitive, and it's full of liabilities.
What a brilliant market strategy, to go into vaccines!
That's where they are heading next for profit. And every single person in here is just another customer. And if you think they aren't going to get you, just wait. I'm going to show you how they plan to…
How are they doing on their quest to keep us sick?
These are some shocking numbers. One in every 3 men die, and one in every 4 women die of cancer. One in 12 women now have an auto immune disorder. I have seen it in my friends in their thirties: Lupus, Arthritis, gut issues, IBS, Crohn's disease. I got IBS right before I went to Merck. I had to go to the doctor, and I got a 'happy vaccine'. Two weeks later I was diagnosed with IBS. I had Hives and I got Arrhythmia.
There is a lot of things that are going wrong in our medical system
And vaccines are a huge part of the problem. All of these things on here, they are considered side effects of vaccines. Have you seen the vaccine inserts? I don't make this stuff up. There are thousands of studies showing the links between vaccines and the toxins and these issues that we are seeing. It's not just the vaccines, but they are a part of it. 60 million have allergies, 30 million have Asthma. These are all autoimmune disorders. Do you know, my friends in Europe, they are like: 'Brandy, what do you mean you can't bring peanuts to your son's school?'
Because of allergies, like: who's allergic to food? That doesn't make sense; you are allergic to food and to air. Hay fever, right? Wild animals, who aren't a part of our medical system, don't get vaccinated. Do they have Asthma, do they have Hay fever? Are they allergic to food, are they allergic to air? What is normal in our country should never be normal. This is not normal! And we shouldn't accept it as normal. The US has some of the highest rates of chronic illness!
All of these, Dementia, Alzheimer's, they are all skyrocketing!
One in 3 people have a chronic disorder issue. Is anyone paying attention? I know a lot of us in here are pretty darn healthy because they know this stuff. But we are the ones who have to get out there on the front lines, and connect the dots for everyone who doesn't see this, who doesn't get it. That's our job, our role, and each one in here is a part of that.
Our kids are even worse off
One in 6 kids have a developmental delay. Speech therapy, occupational therapy… is one of the biggest growing career opportunities right now. One in 7 have Asthma, 1 in 15 have seizure disorders! You know what happens after vaccines now? Children are going to the ER with seizures, and they are being told it's normal. Parents are being told that febrile seizures are normal. That is not normal! And those are the lucky ones that make it to the ER. We have 10,000 babies dying of seizures every year within days of vaccines!
This is the first generation of kids that is sicker than their parents…
and experts say they will not outlive them. What is going on? I'll tell you, medical science has made 'such tremendous progress' that there is hardly a healthy human left. Crazy! That is crazy! And how is it happening?
The Mayo Clinic: 'Cancer is a mutation of genes after birth'
It is not genetic; don't let anyone play that little argument with you! After birth due most often to environmental toxins: chemicals, smoking, pollution, radiation. Autoimmune disorders: mostly due to environmental factors; same thing. We are poisoning ourselves! And there are a lot of things that are part of this picture.
The air we breathe, the food we eat…
We are under a toxic soup, and we have to control whatever exposures we can and minimize it. And you know what? Vaccines are a part of that. Vaccines contain those same chemicals that we don't want to breathe in. The Formaldehyde in the Chinese wood flooring. Did you hear about that? Yeah, don't get wooden floors from China, guys, because it off gases formaldehyde, and that causes cancer according to EPA. But don't talk about it in vaccines.
Injection versus ingestion
Anything you inject goes straight to vital organs.
Things you ingest: they go through the body's natural defence, natural detox pathways. Most gets filtered out: 99 percent of aluminum that's eaten, it's filtered out through the body.
99 percent of aluminum that is injected goes straight to the brain… and then to the gut.
Injection versus ingestion: this is so critical. We have to get people to understand this. Those same chemicals that are in the food and the water, all of this, formaldehyde, aluminum, heavy metals, lead, all of that in vaccines: why is nobody talking about this? To me, that's crazy! Why aren't we talking about this? I hope after this talk, you will talk about it. Because we need to. Somebody needs to, because our health has taken a nose dive, and Pharma is going to keep pounding us. They aren't done.
So my eyes are wide open, right? I sold Vioxx, I saw how corrupt the healthcare system is, how Pharma is.
Then I went to live in Europe for 8 years
And I saw what health is, what real health is. I realized: we have a sick care system. We are just treating symptoms. That's not health. Our healthcare system doesn't care about our health. They profit off us, of making or keeping us sick!
So, I lived in Holland, had my son over there
Natural birth at home with midwives. They didn't even want to talk about vaccines with me. They asked, "Hey, vaccines, you want to talk about it…" I said, "He is perfectly healthy; why would I want to talk about vaccines?" They give: 'Good, we don't want to either!'
Back to San Francisco, my 6 months old son is totally vaccine free. I go to a baby visit… but let's call it what it is, right? It's a vaccine visit. I mean, 75 percent of their money, of the baby visits: vaccines. That's how paediatricians make their money. That's why you don't see very many of them up here on this stage. Vaccine visit: Doctor goes, 'Oh, he needs 15 vaccines; you need to catch him up!'
And I said, "Mhhh, he is pretty darn healthy. I think I'm going to pass on those".
And he's like, 'Oh, trust me', and I'm like, 'Ha, I used to work for Merck. I know not to trust you, and I know that I'm not trusting you with my research. I want to do my own. I want to see some inserts'. He got all red in the face, and he walked out. Nurse comes in and she's like: 'We'll see you in 2 months', and I'm like, 'Ha, you're not seeing me ever again; you are kidding me?' Son has never gone back. Perfectly healthy! No allergies, no asthma, no vaccines, no chronic issues!
I started studying vaccines after that visit…
and what I saw was far worse, far more shocking than anything I saw with Vioxx! Frightening, really frightening.
Are vaccines about health, really?
Well, don't trust a lot that the World Health Organization (WHO) says, but I love this site because it talks about vaccines as a business. It's a new business model for pharmaceutical companies. A new engine for growth, a new engine for profit! And look at these numbers… these numbers, we have already trumped this. It's going to be worth 100 billion by 2018, not 2025. These numbers are 3 years old.
We have had Ebola and Zikha, and all of these great things coming down the line!
We are going to trump these numbers. So when a health organization shows a slide like this, don't you kind of wonder, like: are they really focused on health? Or are they focused on business? And who are they really beholden to?
Vaccines have never been proven safe ever, ever!
When I was a Pharma employee, the gold standard for safety testing was double blind placebo based long term studies. Without that, you could not get a Pharma drug on the market. Vaccines are not classified as a prescription drug. They are classified as a blood and biological product. The testing they undergo is substandard, very low! They don't even put placebo against the vaccine. They put the vaccine against another vaccine, and say, "Oh well, they killed the same amount of people and they harmed the same amount of people; therefore must be safe". The FDA goes: 'Rubber stamp. Thanks for coming; here you go'. And you know what? They are never going to be safe. Don't fall for that 'safer vaccines'. They will never be made safe, because there is no liability.
1986, the federal government gave pharmaceutical companies complete lawsuit protection for vaccines
No liability, only one of 2 industries in the whole US that's protected federally! Because the Supreme Court said that they are unavoidably unsafe! They are not safe and they never will be. And you know what? After that law passed, this is what the schedule did. Tripled. So if you ever hear anyone say, "Oh, I'm fine and I'm vaccinated", if they are over the age of 5: not relevant. It's a totally different story these days.
We give so many vaccines, we should have really, really, really healthy kids, right?
We give 28 vaccines in the first year of life. Two in utero. We should have the healthiest kids in the world, right?
No! We have the sickest and we have the highest infant mortality rate! 10,000 babies die a year of SIDS, usually within days of receiving vaccines, most within hours. Highest infant mortality rate in a developed world. People love to say, "Oh, it's a coincidence". Hmmm, it's because of poor income. Actually, we spend more on healthcare than any other developed country in the world. Per capita we spend more on healthcare. There's no reason for this number, unless it's the vaccines.
So when they talk about coincidences, I say, "Okay, if this is a coincidence, why do we have the first day highest death rate of new-borns? It was a Save the Children report last year. We have the highest first day death rate. Well, might be because they are all born in hospitals and c. section rates.
I'm tired of pharma coincidences!
I'm here to tell you: they don't happen! The immune system is not mature; why so many (vaccines) so early? We are giving 6 to 9 doses. There is no combination studies, no blood brain barrier! We are poisoning our children.
Do you know what's in that needle?
Aluminum, mercury, formaldehyde, MSG, polysorbate 80, linked to infertility! Guess what's a big business these days. The last one nobody likes to hear about, right? Foreign human and animal DNA. But I'm getting to go there because I'm taking on Pharma. So why would I not go there? Why would I sugar coat it…
Where do you think Planned Parenthood is selling all those babies?
Yeah! And where are the churches?
Aluminum, the top one on here, a known neuro toxin. It's linked to breast cancer through traditional deodorant, right? Pharma is laughing at us because they have a vaccine for breast cancer that they are developing. Guess what the adjuvant is… aluminum!! They are blatantly laughing at us! Holy smokes, we need to be out there, screaming this from the rooftop! Oh, but everyone says, "But immunity, Brandy, vaccines saved us!"
Immunity does not occur from the arm
You cannot bypass the natural immune system. And injections into the arm and have immunity: it does not create real immunity. Temporary rise in antibodies, which can last months to years… hmmm, antibodies: not real immunity! You cannot bypass the immune system and expect real immunity.
It also bypasses the detox system
And that's why we are seeing so much damage, so much sickness. But you know, don't believe a lot of what the CDC says, but this is a really great report that's probably going to be pulled off the website tomorrow.
The CDC credits chlorinated water for the reduction in infectious disease
Chlorinated water! Not vaccines. That's Pharma! That's Pharma spinning it, to make profit off your health.
Number 2 killer in the US in 1900: tuberculosis
Cholera was in there too! And Pneumonia. No vaccine programs! So if vaccines were really saving us… we would all be dead. The best defence against disease: a healthy, strong immune system, not overloaded with toxins from food, from water, from air, from vaccines. And this is what everyone in here needs to get everyone they know to understand.
More people are starting to question vaccines, right?
So 'pHARMa' has to mandate them! By the way, did you notice, you can't spell Pharma without the word harm? True! Right there, black and white! Well, in red on this slide.
They have to mandate them
They are starting with the mandates for kids, but that's not what they are looking at. They are looking at that 85 percent of adults that, according to the CDC, are not up to date on their vaccines. Unvaccinated!
Boosters are just the same vaccine; it's 'one size fits all'
That 85 percent, every single one in this room, is where Pharma wants to get their next profit. But we don't like shots, right? So they start with the kids, because parents are used to giving shots to kids, and kids can be restrained and forced. So they start with the kids with mandating the kids first, so it will look normal to mandate adults later.
Healthy people – 2020
They want that all adults to get vaccinated with 130 vaccines over the course of a lifetime by 2020! They are a little bit behind in that schedule, but not far. And they are not stopping with that.
There are almost 300 vaccines in development
Everybody says, "But Brandy, you know what, they are not getting that needle towards me, they're not going to get me". And I'm like, 'Do you have health insurance?' And they are like, 'Yeah of course! You have to have health insurance; it's mandated!'
Boom! Then they are going to get you. So everyone in here that thinks that home school is going to save you, that thinks that a medical exemption is going to save you, that thinks that I don't have kids. I'm fine, my kids are older; I'm fine…
Wrong! That's what they want you to think, so you will stop fighting. They are coming after every single one of us. And it's up to every single one of us in here to do something about it.
More to come!
It starts with SP 277: that's a drop in the bucket of what we are going to see. And by the way, someone really told me that I had to cover this: that SP 277 lawsuit. By the time that it even get settled in the 'miracle' – that would actually be Big Pharma on that one, – it's already getting be mandated on a federal level. They are laughing in our faces. While we all sit back thinking that something is going to save us, that won't.
Our fundamental right is being taken away
And it is up to all of us; we are that army. We are on the front lines. So, how are we going to stop this? Well, I used to work in Pharma. I was trained by the best marketing company there is. And now I'm using that to help us keep our medical rights. After Merck, I went to work for 400 to 500 companies with my own marketing communications firm. I have been doing this for years. Every piece of the puzzle of my life fell together, when I heard about SP 277. So I cried for 2 weeks because I'm like, holy smokes, kidding me? How did I went this long in life taken on Pharma? No, that's no longer an easy life.
I started a marketing campaign
And I'll tell you about that in a minute. Because first I scared you, right? But I want to motivate you, because we got this, we got this! 95 percent of people know that needles are not good for us. We see a needle come near to us and we shrink away. So that other 5 percent, they work for Pharma; not even bother with them. 95 percent: they need someone to connect the dots. That's up to us. We need to be sane, educated faces to those who question vaccines. We need to get rid of the stigma! And we need to talk about risk, because nobody will fight for their rights if they don't know there is a risk.
Merck used to tell us 10 to 12 times:
'People have to hear something before they will change their mindset, before they will question it. But on that fifteenth time, you got them!' So every time I hear, "But people aren't listening, Brandy!"
Yes, they are! We just have to keep repeating, repeating, repeating, repeating, and it has to come from different sources; it can't come from one person. That's why I created campaign with billboards. I created it with bus stop boards, Facebook posts. Grassroots efforts, we are launching grassroots local groups everywhere. This is how we do it. And you know what?
They may have the money, but we have the truth!
We have the truth, and we have the people, and we have the passion, and we have the power. And that is priceless! So we have already won this, if we get out there and fight. If we go home behind our TV, and we sleep, I can't promise anything.
So I started LearnTheRisk.org; it is a non-profit marketing campaign
I take no salary. I'm doing this on my own; I need help. Because this is not a movement for me. This is for every single one in here. How many of you know kids, or have kids? How many of you want kids? How many of you have no kids? How many of you are adults? This is about every single one of us in here. And we have to get this. We are way behind Pharma's schedule. We have to activate now. It's no longer enough to just agree.
Please support what I'm doing
These are some of the billboards and bus stop boards. There are a ton of materials on the website; this is a platform… In one year, we have reached 15 million people with views. 3 bus stop billboards with over 4 million views. That's 20 million people. We need to make it 300 million times 15! Facebook: weekly rate of 1 million. Tens of thousands on the website. 10 posted health oriented events, major rallies, protests… and you know what? The media is watching! If you are loud enough, the media will talk about it. But we haven't been loud enough and we haven't given them anything to talk about.
Make a difference, please
Don't look back 10 years from now and think, 'I wish I would have listened to Brandy more. I wish I would have done something. I never knew it would get this bad. Because that's where we are headed.
I see it because I worked in Pharma; I know exactly what they are doing
Please, listen. Because nobody ever thought PS 277 would pass either. And it did. Don't look back in 10 years and regret you didn't do more. We need voices. Time, use your time, use your money, use your voice. Don't expect someone else to do it for you.
Watch Brandy Vaughan's 12-minute video documenting break-ins on her property:
The Overt and Covert Intimidation of Brandy Vaughan
As she returned home from Sacramento, she had found her property was trespassed the night before she had returned. Many twisted non-verbal messages were left all over her property as a form of extreme intimidation. This was not the only case of trespassing. Regular break-ins still occurred after installing a $3K USD home security system. According to investigators, the culprit had extremely high level intelligence technologies and methods used against Ms. Vaughan. Ms. Vaughan did not feel safe and could not stay in her home any longer.
Before leaving, Ms. Vaughan released a twelve and a half minute video documenting the twisted messages left inside her home, as well as an ending statement that she will not stop her activism. She also organized a very popular Facebook post explaining the reasons why she could not be the culprit of her own death, in the very likely chance that she was found dead.
Her chilling last words were:
"If something were to happen to me, it's foul play, and you know exactly who and why — given my work and mission in this life. I'm also not accident-prone. And I got the highest health rating possible when I went through a battery of medical tests a couple of years ago for my life insurance policy."
December 8, 2019, her body was found inside her home by her 9-year-old son
From what I have heard, there is much mystery inside this topic including other whistleblowers found dead, and an alleged missing documentary on the said deaths.
Others suspect her death came at a suspicious time involving Covid-19 vaccination development.
Source:
Merck & Co. Whistleblower Brandy Vaughan Murdered by Big Pharma