Breaking news updates | Latest and current news headlines | Expose of the week 
This is what the controlled opposition wants us to know in advance – all is scripted news mixed with lies, using a so-called 'whistleblower' who works for the US Government Electronic Spionage  [4chan = 66, 222]  [Anonymous shm7k27 = 222]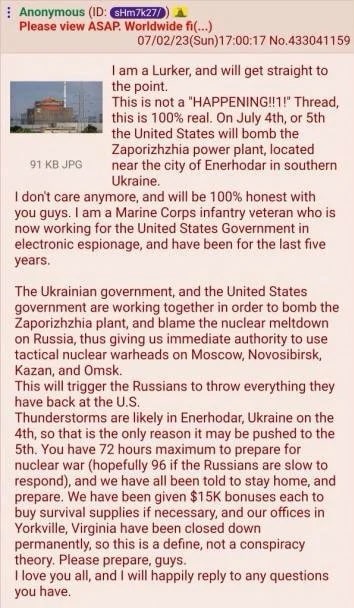 France Riots & The Killing Of Nahel Merzouk Decoded 
BEWARE! Threads (= 77, 69, 633): Meta corporation has recently released its new social network; its logo contains 666 
7/05/2023 – Earthquake activity across North America, Fires in Arizona + California 
The Daily Sceptic (= 69, 223): 'Across Europe Deaths Are Far Higher Now Than They Were in the 'Pandemic Years' of 2020 and 2021'  [Dailysceptic.org = 222] 
7/03/2023 – Large Earthquake activity returns – M6.9 – Two areas already struck – BE PREPARED 
Mandatory Smart Meters – Hugo Talks 
Report: Sun's Activity Could Peak 2-Years Earlier Than Expected; Chinese Scientists Warn Of Imminent Global Cooling 
9 People Allegedly Wounded in Cleveland Mass Shooting 
UK's Warm June Has A Natural Explanation — Leaps To 'Catastrophism' Are Baseless 
Insider (=111, 666) reports: More than 2,200 stores are closing across the US in 2023. Here's the full list 
Freemason Dr. Mercola reposted: The Dangers of Copper Deficiency and Iron Overload 
The Harmful Effects of Electromagnetic Fields Explained 
Exposé of the week  
#HallTurner part of the club
#WorldwideChristianRadioStation 
The addition of WWCR means that Freemason Hall Turner will now be heard in Europe! 
Worldwide Christian Radio station WWCR = 222
The Beast of Revelation = 222
Antichrist System = 222
As Above so Below = 222
Order out of Chaos = 222
Joseph Robinette Biden = 222 
https://www.wwcr.com/listen.html 
Christian Radio station? Think twice!
Christian logo?
The logo contains 3 + 3 = 6, and a sort of hexagon?, many triangles and X's
And Freemasons love their colors blue and yellow
https://en.wikipedia.org/wiki/WWCR 
WWCR mainly leases out its four transmitters to religious organizations and speakers, as well as serving as the shortwave home of Genesis Communications Network's programs. 
Genesis Communications Network = 333, 1333
often referred to as GCN = 111, 201 
And who is also on the GNC show?
The network's shows include, for example:
The Alex Jones Show! Hosted by radio personality and Freemason Alex Jones. As of September 2020, Jones' show aired on 73 affiliate stations….  73 = 777 
Freemason Jeff Rense was carried by Genesis Communications Network. Well, well, well…